Recipes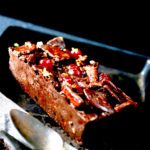 Chocolate Biscuit Cake One of our specialities at The Shack Restaurant and indeed, one of my own favourite desserts. This is the sort of cake […]
Read More »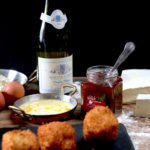 A popular recipe amongst cheese lovers, this is both simple to make and utterly delicious to eat. As you bite into the outer shell of golden breadcrumbs, warm brie oozes out and melts into your mouth. Deep Fried Brie makes a light, satisfying starter.
Read More »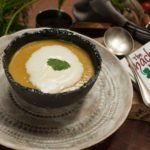 Cream of Vegetable Soup On a cold Irish evening, it doesn't get much better than enjoying a hearty bowl of vegetable soup in front of […]
Read More »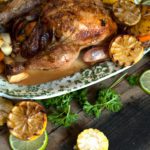 In this recipe, I have added something different using citrus fruit as a zesty flavour. Citrus fruits work incredibly well and the flavours will explode in your mouth. This is a real homely chicken dish with a creative twang!
Read More »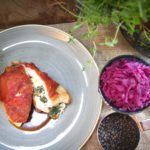 Stuffed Chicken Breast with Tomato and Spinach wrapped in Parma Ham This recipe combines the complimentary flavours of chicken and red pepper sauce to provide […]
Read More »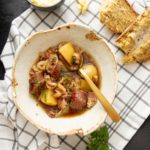 This is a traditional Irish dish which is often made up of leftover meats and some vegetables. Therefore, it usually doesn't adhere to a specific recipe. However, the natives of Dublin will tell you that it consists of layers of roughly sliced sausages and rashers (back bacon) with some chunky potatoes and onions. It should be carefully seasoned as it can be a naturally salty dish.
Read More »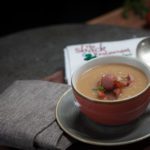 Turnip is part of the nutritional powerhouse group of vegetable and it provides a lot of nutrients while being low in calories. The smoked bacon with the garlic creates a unique soup and it is unbelievably appetizing.
Read More »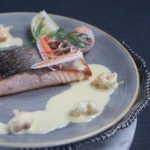 For seafood lovers, salmon and prawns make perfect partners as their flavours blend together exquisitely. Together they create a light dish that is tasty and simple to cook. The creamy sauce compliments the fish nicely, bringing a real sense of the Irish sea straight to your dinner plate.
Read More »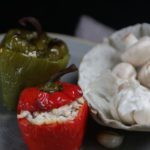 These stuffed peppers are easy peasy to make and are packed full of flavour. Bell peppers are a great starter and for me, this is one of my favourites and it looks extremely colourful as well as tasting amazing.
Read More »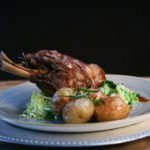 In Ireland, we love the combination of lamb and cabbage, it is a traditional family favourite as it has been passed down from generation to generation. It makes a substantial, wholesome meal that ticks all the boxes in terms of flavour.
Read More »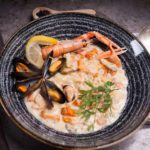 A chowder is a thickened soup or stew and it is extremely popular in Ireland. It is chunky, rich and makes the perfect warming dish on a murky, winter's day. Seafood Chowder is quick and simple to make too, though many avoid cooking it, as they fear messing it up!
Read More »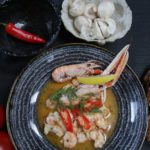 Dublin bay prawns have a unique taste and a texture that is soft and tender. The slight heat of the chilli butter compliments them perfectly transforming them into this zesty, warming dish.
Read More »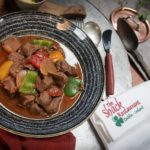 When we first introduced our traditional Irish fare, this was one of the first dishes we included on our menu at The Shack Restaurant. It was created to be a fascinating substitute to Irish Stew, as this features beef as the hero and some people don't like lamb or mutton.
Read More »
This is one of my defining dishes! It was created in 1989, a gently sweet flavoured dish  thanks to the Irish Mist Whiskey Liqueur which oozes through the sauce, giving its essence and flavour.
Read More »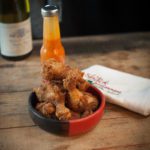 Some people prefer their Chicken Wings baked, others prefer them fried. These Wings  are simple to prepare and cook. You can be adventurous with the sauce and they are simply delicious!
Read More »
Shack Brown Bread We have used the same recipe for Brown Bread since the day we opened The Shack Restaurant back in 1998. This recipe […]
Read More »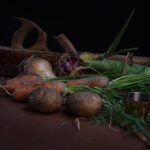 Roast Root Vegetable Soup To make a soup with root vegetables that have been roasted gives a wonderfully dynamic taste and one that must be […]
Read More »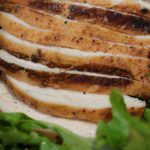 Cajun Chicken Tomato Salad Cajun spice has grown in popularity in recent years and it combines many herbs and spices such as cumin, paprika, pepper […]
Read More »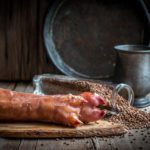 Honey Glazed Crubeens The Irish word for pig's trotters is 'crúibín' and it is an Irish dish made of boiled pigs feet which is usually […]
Read More »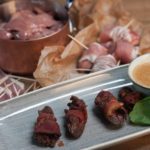 This is an interesting starter because the term 'Devils on Horseback' can refer to a variety of recipes. I learned of them when I was doing my hotel training. Since then, Devils on Horseback have been a favourite of mine and they are a perfect dish for cocktail events or as a starter.
Read More »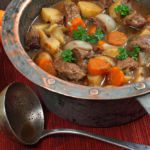 'Stobhach Gaelach' meaning Irish Stew is a traditional Irish folk dish. Like many Irish dishes, the recipe for an Irish Stew lacks consistency and families usually keep to their own method having learnt how to cook Irish Stew from their mother and so forth.
Read More »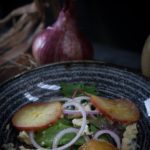 his is a fresh salad that can be made in no time at all, it's perfect as a light main course or it can be served as a side. Though it sounds like it shouldn't work, together the apples and blue cheese marry well.
Read More »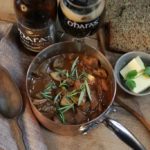 This is a modern, classic Irish beef stew recipe that is easy to make and perfect for freezing. It's the textbook dish for a cold winter's day. Always select the freshest vegetables and choose your meat carefully. The best beef for stewing is shank of beef, or other tougher meats such as chuck, bottom round roast, flank or rump.
Read More »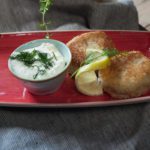 Crab cakes are hugely popular in the US, so much so, they even have annual festivals dedicated to making and eating them. Here in Ireland, we adore this variation on fishcakes too and find that they make a wonderfully satisfying starter or a light and tasty main meal. .
Read More »